Sega Kamble is a next-generation console. Announced as sucessor of Dreamcast during the press in 2015, and launched for USA/BR in 6, Febuary 2016, EUR/AUS/JAP for 10, March 2016. Completes with PS4, Xbox One and Wii U as 8th Generation of video game Consoles.
Sega Kamble

Developer:

Sega

Manufaucter:

Sega

Type:

Home video game Console

Generation

8th Generation

Release Date:

NA: 6 Febuary 2016

AUS: 10 March 2016 JAP: 10 March 2016 EUR: 10 March 2016

BR: 6 Febuary 2016

Units Sold:

5 million (3 May 2019)

Units shipped:

2 million (8 August 2019)

Media:

DVD, CD and Blu-ray

CPU:

Custom AMD x86-x64 APU

Memory:

6GB DDR3
Hardware
Edit
The tecnhology in Sega Kamble is silimar Hardware from personal computer one. This family can make it easier to develop games for Kamble.
Controllers
Edit
Kamble Controller
Edit
Kamble Controller is a Sega Kamble's controller. This design is silimar to DualShock 3 of Sony. Connect this console via USB.
Kamble Dreamcast Controller
Edit
Kamble Dreamcast Controller is a controller styled dreamcast. Requires this to play normal and Dreamcast games.
Kamble Classic Controller
Edit
Kamble Classic Controller is a Controller who have a Genesis and Saturn controller design. Requires this to play normal and Classic games.
Sega Kincet is a motion sensing accessory who have design silimar to Wii Kincet.
Software and Services
Edit
Sega Kamble run system silimar to Wii U. This console require Internet. Kamble includes Sega aShop, Sega Internet, Download Manager and Sega Friend. To play Dreamcast Games. Needed to put Dreamcast Game Disc in this Console.
Online Services
Edit
Sega Kamble uses Sega Network platform for online services, enabling the Online Multiplayer, downloading and purchasing games or apps via Sega aShop, acessing Internet and Watch Youtube.
Multimedia integration
Edit
Sega Kamble supports playback of DVD and Blu-ray (including 3D). But playing CD not supported.
Kamble Games can be downloaded through Sega aShop. But Retail copies of Kamble Games are distributed on Kamble DVD Game Disc.
Sega Virtual Console
Edit
In May 2016, Sega announced Sega Game Gear, Master System and Genesis titles to be available for Sega Virtual Console service on July 2016. In September 2016, Sega 32X and CD can be confirmed and started to appear in Sega aShop. Saturn games can be added in January 2017.
Coming soon!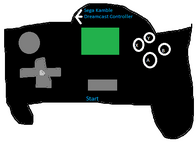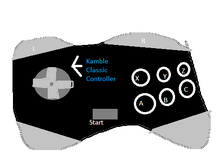 Community content is available under
CC-BY-SA
unless otherwise noted.